Dental prosthetics
Inlays, crowns, bridges, dental prosthetics

Temporary tooth dropped out? Your crown got lost! What should you do? 
Loose crown?

Try to remove the crown. If you succeed, then go to the nearest dentist. Keep your mouth shut, then the tooth stub usually does not hurt. If you are in Vienna, you can always come to us during our opening hours. If you do not succeed in removing the loose crown from your mouth, then  an immediate visit to the dentist is advisable, avoiding mouth movement to prevent another fracture of the tooth stump.
Broken dental prosthetic?

Repairing a dental prosthetic inlay takes (in our office) two hours. Either we help can you immediately, or the next morning, just call and come over. It is best to wrap the broken prosthetic in a clean cloth and come to us with it. Some patients glue their prosthetic in their mouth with super glue. If you are talented and have an optimal fracture line, this may hold for some time, but it is not a permanent solution.
Dark edge around your crown?

The causes for a dark rim around a the tooth crown are many. This could be a non-optimal root canal treatment, leaking crown edges, metal-ceramic crowns, discoloration of your tooth root in case of gum recession, thin gums and much more. If you want, take a picture of the situation and send it to us via WhatsApp or email, so we can tell you more! The therapy depends on the particular cause.
I need a new dental prosthetic

Yours is already old and worn? Call us and we will send you a request for a new one. Once you have the approved application from your health insurance, we take impressions and 3 days later you have your new prosthetic. Depending on your insurance, costs may arise, we will send you a cost overview – just choose the contact button.
I need a new bridge or crown
You need a new bridge or crown? Call us and make an appointment. The first appointment is free and you get an offer including prices and video links sent home. If you are satisfied, then you make an appointment with the office (for example, by telephone) and state your decision. We prepare the tooth stumps, take impressions and send you home with a provisional tooth. 3-7 days later you get your dental bridge or dental crown.
Lifelong fillings

Ceramic inlays can last 30-60 years. Depending on the chewing and eating behavior and inlay size, ceramic inlays last for decades. Unfortunately, dental fillings are often skimped on and cheap fillings are chosen that only last a few years, so the fillings have to be changed every few years and with each change a little tooth substance is lost. The dental fillings get bigger and hold shorter and shorter, because a large filling is more affected by chewing and also has less and less retention to the tooth. In the end, it comes too often to a root canal and so the dental status decreases over the decades. But that does not have to be the case, good material for dental fillings, proper processing and optimal care guarantee teeth for a lifetime! Ask us about ceramic inlays.
What are dental prosthetics?
On our video channel you will find your own playlist with many videos on dental prosthetics.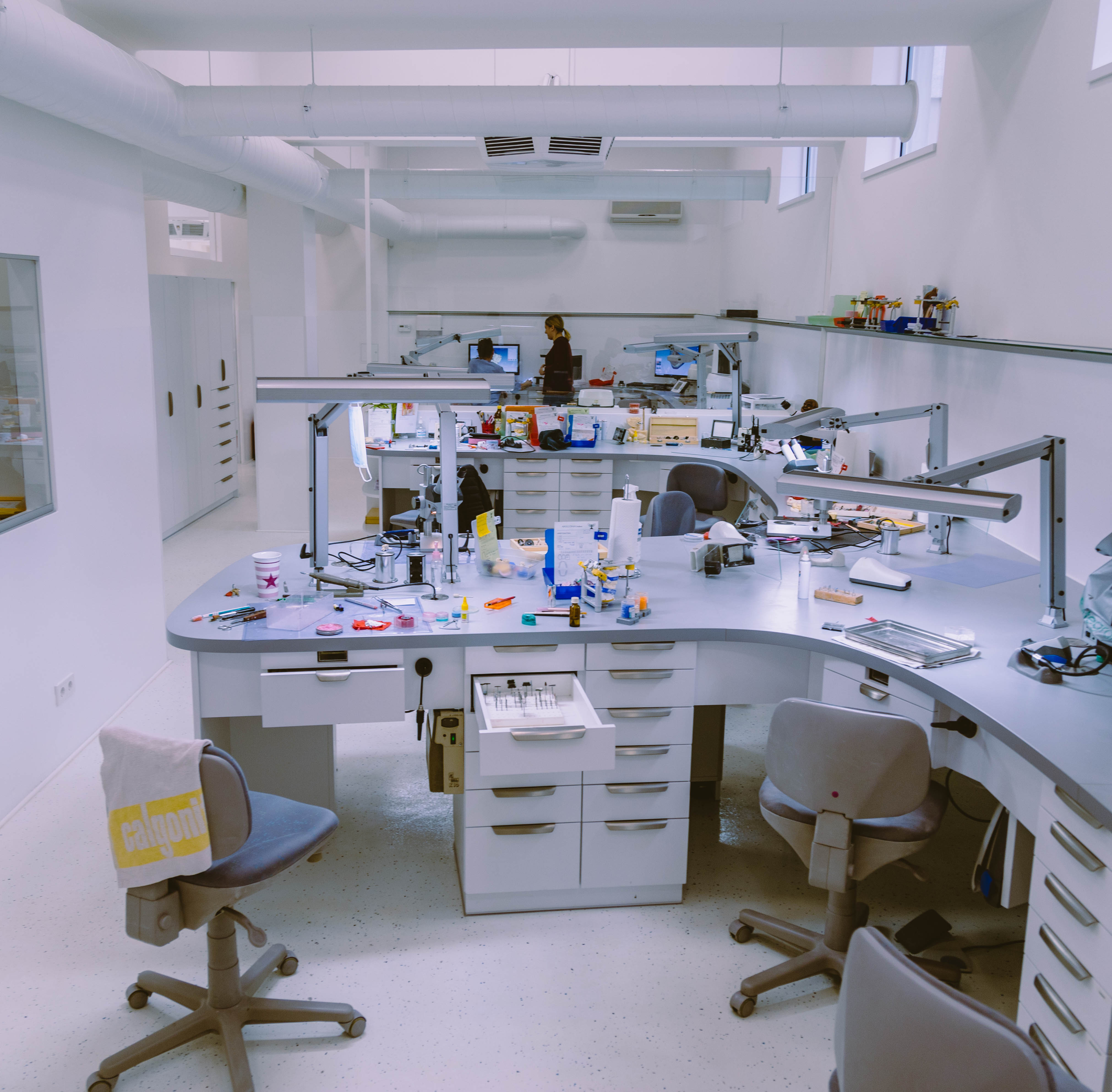 Digital planning

Our dentures are made in the in-house laboratory. We work with the current technologies (intraoral scanner, 3D printer, CAD / CAM) on your dentures. Modern radiography (DVT) enables digital planning, saving you time and increasing accuracy. With optimal planning, we can produce the dentures within a day. Immediately in the morning, the impression is made, the data is sent to our own milling machine and in the afternoon, the tooth crown is ready for pickup. If it's not urgent, then you wait for your dentures usually 3-7 days. In the meantime, of course, you have a provisional. If you are interested, you can visit us anytime and see the production of your dentures. Just get in touch with our office.
Frequently Asked Questions

Here you can find questions and answers about dentures and dental prosthetics in general.
how much do new teeth cost?
This question can not be answered on the Internet, it's similar to the question "How much will the renovation of my house cost me?". This depends on many factors, how old is the house, how damaged, what do I want to renovate, …? It's the same with your teeth. Simply arrange a first meeting and we will provide you with a treatment plan with video links and prices. If you like the plan, then make yourself an appointment by phone and we start.
What does a crown cost?
We had prices here, then our registry (Austrian Dental Association) sued us for violating advertising policies and we were forced to take the prices back offline. It's best you call us, or come for a first interview, where you will get all the prices.
What does a dental veneer cost?
We had prices here, then our registry (Austrian Dental Association) sued us for violating advertising policies and we were forced to take the prices back offline. It's best you call us, or come for a first interview, where you will get all the prices.
If there is more to do we can talk about a discount, but it is important that your mouth is completely healthy. Above all, veneers are aesthetic treatments – for a perfect esthetics the mouth should be healthy. Because only a healthy mouth is beautiful in the long run! So no fanged teeth, no tooth decay, dense fillings, clean root canal treatments, stable lateral dentition and healthy periodontium. Frequently, other work is added to veneers and this can be reflected in the costs. Of course one can deviate from these textbook specifications, but the danger is then that one does not enjoy the veneers for a long time, e.g. due to fractures. You want veneers and can not afford them in the foreseeable future? Ask if we're looking for a case to film. We make a lot of videos – don't worry, you won't be able to be recognized – depending on what you need, we can sometimes offer reduced prices.
Leaky filling
If your old dental fillings are leaking then they can easily be replaced. Inform yourself first and get an overview of the different types of fillings. Once you know what you want, just contact our office and make an appointment to replace the filling.
Which dentures to choose
There are many different types of dentures. The two main categories are removable and fixed dentures. Removable dentures are cheap, but less comfortable. Fixed dentures feel like your own teeth, but are more expensive. Just tell us what your wishes are and we'll email you possible options. Once you know which dentures you want, we'll start with the implementation.
Ceramic broke away from my crown
It rarely happens, but older dental crowns can have ceramic fractures. Either we polish the position and put on new ceramic composites, or make a new ceramic crown. Either way, you can be helped.
contact us
Whether per email, Facebook, WhatsApp or phone, we're here for you. Make an appointment for your personal consultation!
First Consultation
We take an X-Ray and go through it together. You receive everything as a PDF, including a price list and video links.
Treatment begin
You decide! As soon as you now which treatment you would like, let us now and we will make the necessary appointments together. Questions about dental prosthetics?