Endodontics
Root canal treatment, root canal treatment revision, root end surgery, etc.
You need a root canal treatment?
We offer root canal treatments paid for by insurance, but also offer private endodontic treatments.
Root canal treatment paid for by your insurance

Due to our high hygienic standards, we can offer a better quality even for root canal treatments paid for by insurance.  We utilize a dental dam and many other technical utensils to ensure a high-quality treatment.
Endodontic root canals (Endo)

When done according to the textbook, a root canal must be done with a rubber dam. A root-treated tooth can last a lifetime using this method along with optical magnification, a microscope, enough time, and clean instruments.
Root Canal Treatment Revision
We grew up with the Internet, because the dissatisfied search in the Internet. Every day we correct root treatments which were not optimally performed: one speaks of a revision. For endo revision, we work with the latest flushing systems and file products.
The Cost
There is no single price, but we do offer packages. A classic insurance treatment costs nothing with Austrian insurance. The costs of an endodontic root canal treatment differ depending on the location of the tooth. A first-time root canal costs less than a repetition of a bad root canal treatment (revision). We had prices here, then our registry (Austrian Dental Association) sued us for violating advertising policies and we were forced to take the prices back offline. It's best you call us, or come for a free first interview, where we can give you all the prices.
Pin tooth – Revision possible?
This has to be clarified on a case-to-case basis. With the help of digital X-ray, one can plan such cases. It's not just about the possibility of distance. It is important not to weaken the tooth so that it doesn't end up in a fatigue fracture in a few years.
Root tip resection or revision
Root-tip resection is not a treatment of dental focus, because it does not treat the cause. Cleaning the channels that cause the issue must be a priority. That's exactly what happens in root canal revision. This will save you the operation, because most of the time the tooth focus can reform itself.
What is a root canal treatment?

In this video you will learn what a root canal treatment is and how it the process works at Denta Beaute.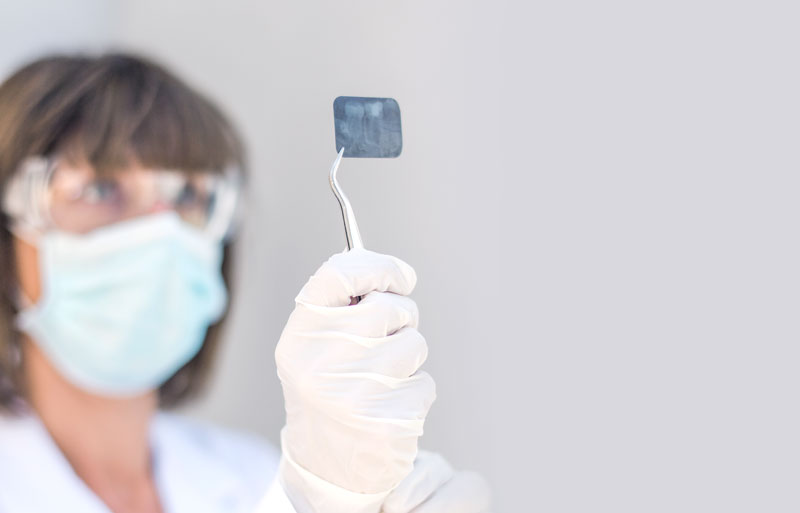 3D X-Ray, Microscope and Time
With the help of 3D X-ray, certain cases can be better planned, because the failure of a root canal treatment often stems from excess channels that one has forgotten to fill. Thanks to the three-dimensional representation, the microscope and – very importantly – enough time, even difficult root anatomies can be treated to last a lifetime.
FAQs about Root Canal Treatments
Here you can find everything on the topic endodontics. Should your question not be answered, please contact us for more information!
Does a root canal treatment hurt?
No, you get local anesthetia and so you will not feel any pain throughout the treatment. You can also take a break at any time during the treatments, you can talk to us during the treatment so we can respond to your needs.
What is the rubber dam for?
A rubber dam is a rubber membrane with the help of which one can place dental crowns absolutely dry. Many materials used in dentistry are very sensitive to moisture, e.g. when cementing ceramic inlays and / or plastic fillings, a rubber dam must be used, otherwise the quality of the work suffers greatly. Also, root canal treatments should never be performed without a rubber dam, because the saliva is full of bacteria, which, when they enter the open tooth canal, trigger infections. The bacteria can multiply unhindered in the tooth interior and cause after weeks / months / years inflammation in the bone – tooth loss is often the result!
Why doesn't my insurance cover endo?
We are the insurance and it will be a while before people understand that medicine is not about their well-being, but about money. Only when this is clear to people, will we tackle appropriate changes in the health sector. So talk about it, spread the word, because that's how things will change faster.
Post-root canal treatment pain?
After a root canal treatment, the tooth may be a little painful, which is completely normal. When changing a bandage, the wound often hurts afterwards. The wound doesn't like to be irritated, on the other hand, it would never heal without renewing the dressing. It is important that the pain decreases, that is, the symptoms become less.
How can I begin with my root canal treatment?
If you need a root canal treatment, then just contact our office. We will then arrange a free first consultation and look at the tooth together. During the first consultation you will learn the price, the procedure and the prognosis of the tooth. You get everything sent home in writing – including explanatory videos. If you are then convinced of the therapy, you just call our office again and make an appointment so that we can start.
Why a pin and crown after endo?
Many people save in the wrong place, so they can make a good endo and then seal the canal entrances with a cheap filling. This has consequences, over time resulting leaks lead to a bacterial repopulation of the canal system, tooth loss is then often the result. To prevent this "microleakage" it is worthwhile to make a pin and a crown. Thus, the tooth is sealed for decades against the oral cavity and can last a lifetime.
Contact us
Whether per email, Facebook, WhatsApp or phone, we're here for you. Make an appointment for your personal consultation!
First Consultation
We take an X-Ray and go through it together. You receive everything as a PDF, including a price list and video links.
Treatment begin
You decide! As soon as you now which treatment you would like, let us now and we will make the necessary appointments together. Questions about root canal treatments